Telepathic Afro-Caribbean improvisational trumpet-and-percussion duo Aquiles Navarro & Tcheser Holmes are longtime friends, collaborators, and tireless hustlers on the creative music scenes of New York City.  "Heritage of the Invisible II" follows Navarro and Holmes's rise to prominence as members of free jazz collective Irreversible Entanglements. In March of 2020 in "The Nation" writer Marcus J. Moore said "Irreversible Entanglements' fearless music takes to task the police, American politics, capitalism, and racism." The revolutionary ethos that drives Irreversible Entanglements is no less present in Navarro and Holmes's duo work, though their duo finds them much more wholeheartedly and jubilantly embracing their Latin and Afro-Caribbean foundations. 
The beginning of a beautiful friendship
Aquiles Navarro was born in Toronto during a time of great, political upheaval in his family's native home of Panama. Dangers surrounding the reign of Manuel Noriega and the subsequent U.S. invasion of 1989 prompted the Navarro family's exit, returning years later to Panama City in 1997. Latin folkloric music was fastened deeply to the family paradigm. After studying with Panamanian trumpeter Victor "Vitin" Paz (Fania All-Stars) and Panamanian-American composer/saxophonist Carlos Garnett (Miles Davis, Pharoah Sanders), Navarro moved to Boston to study at the New England Conservatory (NEC). Before the semester had even begun, a friendship had kindled between him and another incoming new student, Tcheser Holmes. 
Since a young age, Tcheser Holmes naturally wove into the fabric of a tight-knit Pan-African community in Brooklyn centered around the spiritual organization, Ausar Auset Society, and his family's dance company, The Bennu Ausar Dancers. From early on, Holmes remembers "playing and viewing music purely as a source of celebration and achievement." As a teenager he enrolled in the Manhattan School of Music's Precollege for pre-conservatory training, and eventually made his way toward NEC.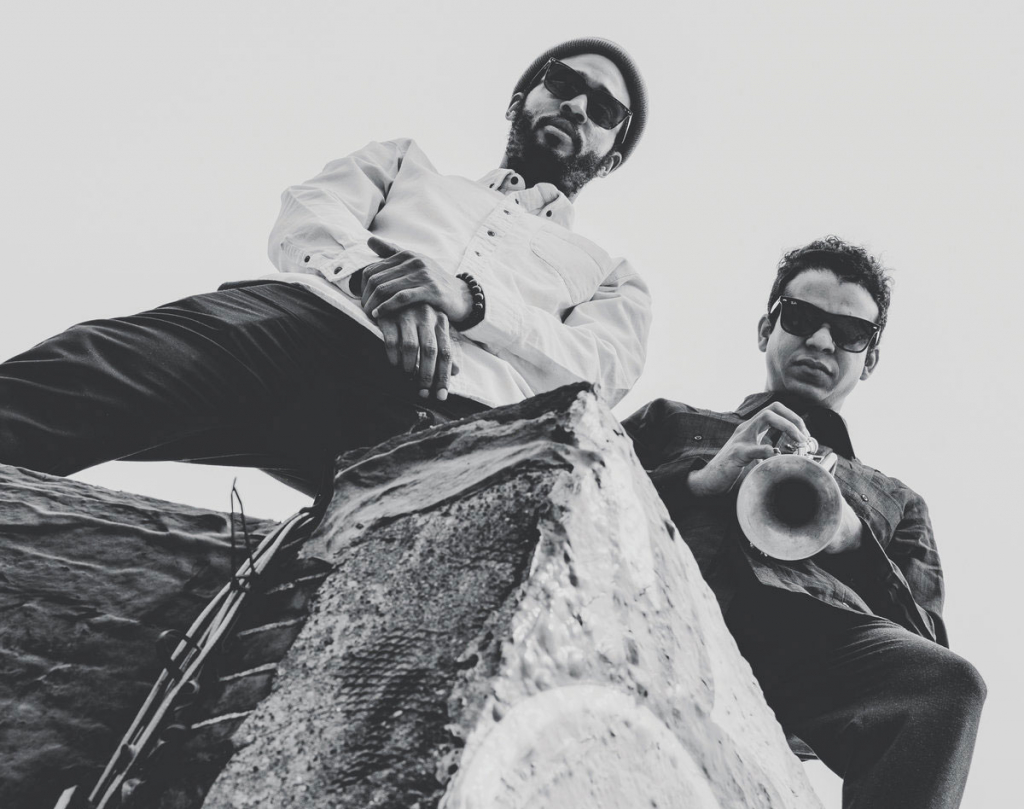 After their tenure at NEC, both musicians relocated to New York City. "In New York, I've been a working musician since day 1," recalls Navarro. "Tcheser and I played all over the city, from Uptown to all over Brooklyn, often booking our own gigs." Dance clubs and subway platforms, The Bowery Poetry Club, the Latin Jazz Big Band at the Nuyorican Poet's Cafe, and Roberto Roena y Su Apollo Sound in the Bronx – the two musicians developed a wide creative range. "We got familiar with a system where the rhythm is quantified," says Holmes. "But I feel like we always remained 'children' in terms of viewing music. Kobe said 'Be a Kid.' We never needed to validate the process."
The story of their spirited alliance in rich color
Navarro and Holmes never idle on "Heritage of the Invisible II," choosing instead to ponder their origins in a devout charge of ecstatic cooperation. Meditating on the unseen constructive forces of culture and rhythm as a cadence encoded in one's heritage, with "Heritage of the Invisible II" they share a volume of their story in rich color – a brilliantly imagined testament to generations of memory, creation and existential joy. "Heritage of the Invisible II" will be released at October 23. Pre-order here.